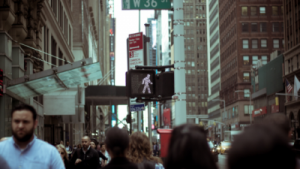 I want to share with you several important concepts you have to think about when it comes to creating marketing materials.
I feel it will help you get your prospects attention and really connect with them so they can take the actions you want.
There's one thing I think about when I sit down to create marketing materials.
And it's this:
"How can I create marketing that'll really MOVE my prospect?"
Here are 3 secrets that'll make your marketing more impactful on your prospects and clients.
1. Tell powerful stories
You see, everybody loves a great story.
Stories have a way of moving people, and it's something you should implement in your marketing.
Plus, stories are a powerful way to make a selling point or overcome objections.
For example, I could either tell you how my coaching can impact your life.
Or I can tell you a powerful story of how I helped a client overcome several business challenges that allowed her to triple her income in 12 months.
The latter is going to be much more impactful because your SHOWING them how powerful your coaching is vs. telling them.
You're also stirring your prospects emotions through your copy, especially if they tell themselves…
… "That story sounds like what I'm going through right now!"
I highly recommend creating a database of stories that overcome different objections and cover important selling points.
For example, a common objection many coaches have when it comes to buying my products is:
"I'm not good enough or smart
enough to become a successful coach."
I then tell my story of how I grew up on welfare, had no special education or smarts, or never got a business degree.
I also talk about all the mistakes I made early in my coaching career that almost caused me to quit and get a regular job.
Yet, I was still able to build a business that made over $5 million in revenue in 2017 and appeared on the Inc. 5000 list of fastest growing companies 4 years in a row.
This story helps overcome that objection and gets the prospect to believe, "If Christian can do it, I can too!"
So come up with a database of stories that overcome objections and make important selling points.
And then use these stories in your marketing to really move your prospect to take whatever action you want.
Speaking of telling stories, this leads me to the 2nd secret:
2. Be Vulnerable
Many coaches (and business people in general) hide their flaws because they're embarrassed to reveal them.
Either that, or they're afraid they'll look "weak" to their target audience.
This cannot be further from the truth!
Displaying vulnerability will endear more prospects and customers to you because they realize you've been there too.
You know how they feel.
I mentioned above that I like to tell the story of how I used to struggle as a coach.
I freely tell people I thought about quitting many times because I had trouble paying my bills.
I tell that story because I want people to know I'm not some "guru" whose bulletproof and flawless.
I want them to know I've been there before, and they can trust me.
And what better way is there to connect with prospective clients than building trust, right?
So don't be afraid to reveal your flaws.
You'll appear more authentic to your target audience.
3. Speak the language of clients
It's surprising how many coaches miss the mark when it comes to what their prospects *really* want.
I recall a recent client who hired me for consulting.
She had a system that helped people lose weight and get more energy in their lives.
I recall looking over all her marketing materials and all she talked about was the details of her weight loss system.
But didn't talk about the results her system was going to help them achieve.
She failed to talk about how their lives were going to change after they complete her program.
She didn't talk about…
— How confident they're going to feel when they've lost the weight, and how that'll help them with other areas of life (get a promotion, start a business, attract a man, etc.)
— How awesome they'll feel when they can buy wardrobes that are smaller sizes.
— How proud they'll feel when their family and friends tell them how great they look
— How ecstatic they'll feel when they get on the scale every week and see the pounds melting off
You see, you have to speak the language of clients in your marketing materials.
And the language of clients is the language of RESULTS.
You see, most clients aren't looking for "coaching."
They're looking for something that working with a coach might help them get.
This could be getting a promotion, losing weight, or increasing their sales.
That's why aligning your marketing with what your clients *want* will make your marketing more powerful.
I hope these three secrets help you create marketing that really moves your prospect.
So go out there and start helping more people with your coaching!
Big Love,
Christian